You can donate to the Lancaster PTO with Paypal!
Just click the donate button!
---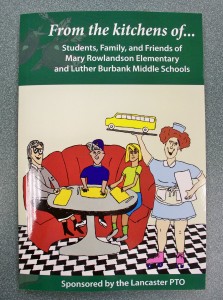 From the Kitchens of ……..Students, Family, and Friends of MRE & LBM
Inside the cookbook you will find drawings from the students, over 250 recipes ranging from such family classics as Mac & Cheese to new twists on old standards such as Watermelon Salsa.  There are soups, side dishes, appetizers, desserts, allergy conscience recipes and much more.
This wonderful cookbook is available for $8.00 each or 2 for $12.00.  If interested please complete the order form below.
————————————————————————————————————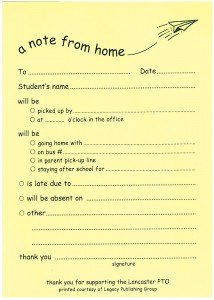 Looking for a scratch pad to send a note to school?
Have we got the solution for you!
A Note From Home notepad has been designed to make it easy to correspond with the school and its teachers.
The 5"x 7″ notepads are yellow paper with 30 sheets per pad and are selling for $2.00 per notepad.
A special thank you goes to Legacy Publishing Group with their help 100% of all proceeds will be returned to the schools for the benefit of the students.
————————————————————————————————————
To order any of the above items please complete the order form below.  The form and payment can be mailed to the address on the form or sent in with your child.  All orders will be filled within two school days and return via your student or can be picked-up in the Mary Rowlandson Elementary School front office.
Thank you for supporting the PTO and students