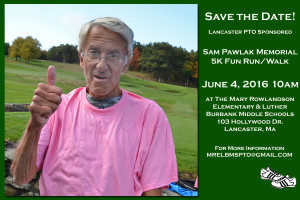 Please join us for the Sam Pawak Memorial 5K Fun Run/Walk!
June 4, 2016 10AM
at the Mary Rowlandson Elementary & Luther Burbank Middle Schools
Hollywood Drive, Lancaster, MA
Samuel Pawlak passed away in May 2015 after a courageous battle with ALS, or "Lou Gherig's Disease." Sam's life was dedicated to community and family, education and sports. Sam served the community in many ways, some of those being a beloved teacher, school administrator, and principal at Nashoba Regional High School, and later principal of Luther Burbank Middle School in Lancaster.  Sam was a lifelong athlete and was inducted into both the Nashoba Regional School District Hall of Fame for Athletes and Foxboro High School Basketball Hall of Fame.  While earning his degree, he played for Fitchburg State College Basketball and Baseball teams.  Sam retired as high school basketball referee in 2014 after reaching a milestone career as referee for 50 years.
A 5K Fun Run/Walk in Sam's name seems a very appropriate way to honor his memory and the many contributions he made to our community.  A portion of the proceeds will go towards establishing a scholarship fund in his name.
PLEASE NOTE
There are
TWO
steps to registration, fill out the registration form and pay.
PLEASE DO BOTH STEPS.
1.) Click the words "Registration Form" to fill out registration form online
: 
Registration Form
2.)
Pay with
pay pal
using the button below,
or
you may send a check
made out to Lancaster PTO to the following address:
Lancaster PTO, Mary Rowlandson Elementary School
103 Hollywood Dr.
Lancaster, MA 01523
Thank you! We look forward to seeing you there!