Dear MRE/LBMS families,
 We are so excited to announce the date for our Biennial PTO Auction 2017!  Please mark your calendars and book your sitt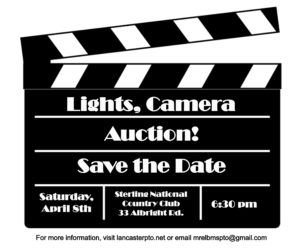 ers for Saturday, April 8, 2017 at 6:30 pm.  The auction will be held at the Sterling National Country Club in Sterling, Ma.  Please come and enjoy hot and cold appetizers and a cash bar while we auction off items and services made/donated by local businesses, members of our community and YOUR CHILDREN!!
We are looking to add to our growing list of auction items for this year.  If you have a local business that could donate a good/service, enjoy crafting, or just want to make a donation, it would be greatly appreciated.  In the past, many families have donated items such as sport tickets, vacation rentals,  music lessons, handmade craft items, etc. There is also an opportunity to purchase an add that will appear in the auction booklet.  If you are able to donate or would like to place an ad, print and complete attached acquisition/add space form. (all donations are tax deductible)
If you are unable to make such a donation, we are also looking for extra sets of hands before and during the event.   For more information, please contact Stacy Kramer at mrelbmspto@gmail.com
Thank you for your consideration and we look forward to seeing you on April 8th!